Product Category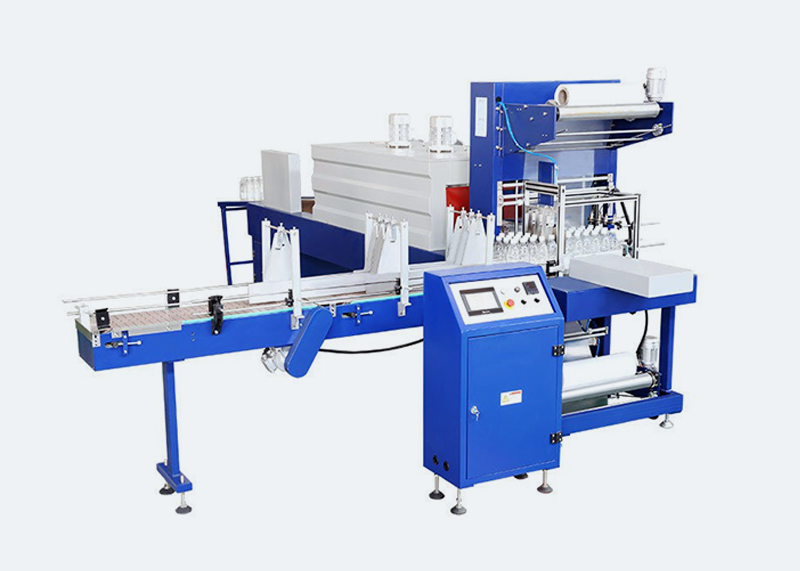 Automatic Shrink Wrapping Machine
Unitech Water Solution is an Exporter & Manufacturer of Automatic Pet Bottle Shrink Wrapping Machine.
Request A Quote
Infeed Conveyor With Lane Divider
Online Product infeed M.S Powder Coating conveyor shall be provided in 90°with shrink tunnel.
Infeed conveyor shall be having TWO LANE's dividers.
Two Lane BOTTLE Sensor shall be provided.
Conveyor shall be having individual gearbox motor with AC Invertors for control speed of conveyor.
Conveyor shall be continuously driven.
Automatic Bottle Collater Conveyor With Guider & Matrix Pusher System
Bottle collator conveyor shall be imported and modular conveyor belt shall be provided.
Bottles shall be collating automatically as per the required matrix.
Pusher assembly shall be provided to push the case configuration or a MATRIX.
Side guider & Top Guider system shall be provided to guide the bottles and to form a required matrix without deformation of matrix.
Automatic Web Sealer With Sealer Conveyor
Highly efficient Continuously Heated & Thermostatically Controlled ALUMINUIM ALLOY Front Seal Head for providing Strong, Perfect & Neat Sealing.
Top & Bottom film roll mounting with Motorised Unwinding system.
The unwinding of shrink film shall be automatic.
Emergency Switches & all safeties shall be Provided.
After sealer Dead Plate shall be provided with independent provided to control the speed.
Shrink Tunnel
A heavy Duty Shrink Tunnel shall be provided.
Infeed Zone, Heating Zone & Cooling Zone shall be provided
Mesh type belt shall be provided.
Tunnel shall be insulated with 3'' Glass Wool.
S.S. U Shaped finned heaters shall be provided.
The Heating Zone shall be thermostatically controlled by Blower motors as per requirement.
Emergency Switches & all safeties shall be provided.
Cooling Zone shall be provided to cool the Case or Matrix easily and Fastly to get good shrinkage result.
Control Panel with all necessary electrical and electronics controls & Operational Friendly.
Exit Conveyor
In Exit Imported LOW BACK PRESSURE with Acetal Rollers Conveyors shall be provided to minimize the pressure on Shrink Wrap bottles in the Queue.
The conveyor surface is specifically designed to ensure support and stability for PET BOTTLES with PETALOIDS BOTTOMS.
Tight roller spacing eliminates gaps and provides optimum product stability.
Precision-moulded premium plastics and austenitic steel retention pins maximize conveyor life and utilization, while also reducing noise.
Technical Specification
Sr No.
Particular
UWS 60
UWS 90
UWS 120
1
Max. Packing Size
550 mm x 450 mm
550 mm x 450 mm
550 mm x 450 mm
2
Power Supply
415 V x 3 PH x 50 Hz
415 V x 3 PH x 50 Hz
415 V x 3 PH x 50 Hz
3
Connected Load
11 KW
17 KW
17 KW
4
Control
PID/Timer Control
PID/Timer Control
PID/Timer Control
5
Conveyor
SS Mesh Conveyor
SS Mesh Conveyor
SS Mesh Conveyor
6
Conveyor Speed
0 - 10 m/min (Variable)
0 - 10 m/min (Variable)
0 - 10 m/min (Variable)
7
Packing Speed
5 - 6 Packs/min
8 - 10 Packs/min
10 - 12 Packs/min
8
Material of Construction (Outer / Inner)
MS Powder Coated & Contact Parts SS 304
MS Powder Coated & Contact Parts SS 304
MS Powder Coated & Contact Parts SS 304
9
Film Material
POF / PVC / LDPE
POF / PVC / LDPE
POF / PVC / LDPE
10
Length of Tunnel
9 Feet
12 Feet
12 Feet
11
Matrix
250 ml - 6 x 4
500ml - 6 x 4
1000ml - 4 x3
2000ml - 3 x 2 (Recommended)
200 ml - 7 x 5=35
500ml - 6 x 4 =24
1000ml - 4 x3=12
2000ml - 3 x 2 (Recommended)
200 ml - 7 x 5=35
500ml - 6 x 4 =24
1000ml - 4 x3=12
2000ml - 3 x 2 (Recommended)
12
Maximum Packing Size
750 mm x 500 mm x 450 mm
750 mm x 500 mm x 450 mm
750 mm x 500 mm x 450 mm
13
Max. Sealing Length*
800 mm
800 mm
800 mm
14
Power Requirement
220 V x 1 PH x 50 Hz
220 V x 1 PH x 50 Hz
220 V x 1 PH x 50 Hz
15
Connected Load
1 KW
1 KW
1 KW
16
Working height of machine
750 mm +/- 50 mm
750 mm +/- 50 mm
750 mm +/- 50 mm
17
Max. Pack Height
350 mm
350 mm
350 mm
18
Air Requirement
10 CFM @ 8 Bar
12 CFM @ 12 Bar
12 CFM @ 12 Bar
19
Length of Web Sealer
4 - 5 Feet
4 - 5 Feet
4 - 5 Feet
20
Total Machine Weight
700 Kg
850 Kg
950 Kg